Máy Chủ HPE ProLiant DL60 Gen9 Server
Mã sản phẩm
: HPE ProLiant DL60 Gen9 Server
Bảo Hành
: 36 tháng
Tình trạng
: Còn hàng
Giá sản phẩm
:

Liên hệ

(Giá trên chưa bao gồm thuế VAT)
Tặng kèm phụ kiện.
Số lượng mua
Đánh giá sao
Are you looking for affordable compute but in a dense design? The HPE ProLiant DL60 Gen9 Server provides the right density, performance and manageability for file and print, messaging, collaboration workloads and cloud environments. All in a compact 1U chassis at an affordable price to meet the needs of cost conscious service providers and small and medium businesses (SMBs).
What's new
Intel® Xeon® E5-2600 v4 processor family offers unparalleled versatility across diverse workloads.
HPE DDR4 SmartMemory 2400 MHz modules for faster performance with data-intensive application workloads.
HPE Trusted Platform Module (TPM) 2.0 averts unauthorized access to servers and delivers enterprise level security to store artifacts used to authenticate the server platforms.
900W AC / 240V DC power supply for improved affordability.
Increased capacity hard drives – Large Form Factor (LFF) with up to 10 TB capacity now brings the HPE ProLiant DL60 maximum storage capacity to 40 TB SAS/SATA.
10GbE FlexFabric NICs providing seamless performance upgrade from 1GbE and the economies of 10GbaseT.
Features
Price Performance for Budget Constrained Environments
The HPE ProLiant DL60 Gen9 Server supports up to two Intel® Xeon® E5-2600 v3/v4 processors and eight DIMM slots of HPE DDR4 SmartMemory offering improved efficiency and up to 14%1 performance increase.
Standard with 2x1GbE, up to 3 PCIe slots and choice of HPE FlexibleLOM provide you flexibility of networking bandwidth and fabric so you can adapt and grow to changing business needs.
Choice of HPE Smart Array Controllers with increased performance, data availability with the 12 Gb/s SAS technology or HPE Smart HBAs with reliable high performance SAS connectivity capable of running HBA mode or simple RAID mode.
HPE SmartDrives continue to deliver optimal performance, capacity, and reliability to meet various customer segments and workload requirements at the right economics. Supports up to (4) LFF HDD/SSD options.
Density and Efficiency Packaged in a Cost Optimized Design
The HPE ProLiant DL60 Gen9 Server with 80 PLUS gold certified entry-level HPE Power Supplies provide up to 92% efficiency which combined with Hewlett Packard Enteprise power management features leads to reduction of power consumption and expense.
With support for 10 TB LFF hard disk drives the HPE ProLiant DL60 Gen9 Server offers an increased storage limit of 40 TB SAS/SATA.
Improved ambient temperature standard with ASHRAE A32 helps customers reduce cooling expense.
Agile Infrastructure Management for Accelerating IT Service Delivery
With HPE ProLiant DL60 Gen9 Server, HPE OneView provides infrastructure management for automation simplicity across servers, storage and networking.
Online personalized dashboard for converged infrastructure health monitoring and support management with HPE Insight Online.
Configure in Unified Extensible Firmware Interface (UEFI) boot mode, provision local and remote with HPE Intelligent Provisioning and Scripting Toolkits or RESTful Interface Tool.
Embedded management to deploy, monitor and support your server remotely, out of band with HPE iLO.
Optimize firmware and driver updates and reduce downtime with HPE Smart Update, consisting of HPE Smart Update Manager (SUM) and HPE Service Pack for ProLiant (SPP).
Sản phẩm liên quan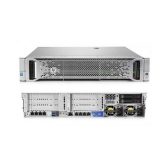 51,300,000 VNĐ
Liên hệ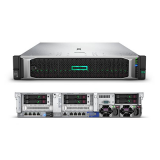 Liên hệ